I was lucky enough to snag a seat on Virgin Atlantic's Pride Flight, which flew from London Heathrow into New York City to herald in the start of WorldPride. The flight was, put simply, completely insane. I'm talking conga lines through the aisles, Britney blasting on the speakers, and the plane being completely depleted of its alcohol supply. It was a flight that will surely go down in history. Here are 8 things that made it epic!
THE FUN BEGAN AT THE AIRPORT
The festivities began the second you walked up to the doors of Heathrow's T3. A giant rainbow banner welcomed you in, and as you stepped inside, you were greeted with your own dedicated check-in line! Better yet, before checking in, you could grab a freshly-baked cupcake, a Pride Flight bag tag, and a rainbow heart pin!
TITUS BROUGHT DOWN THE HOUSE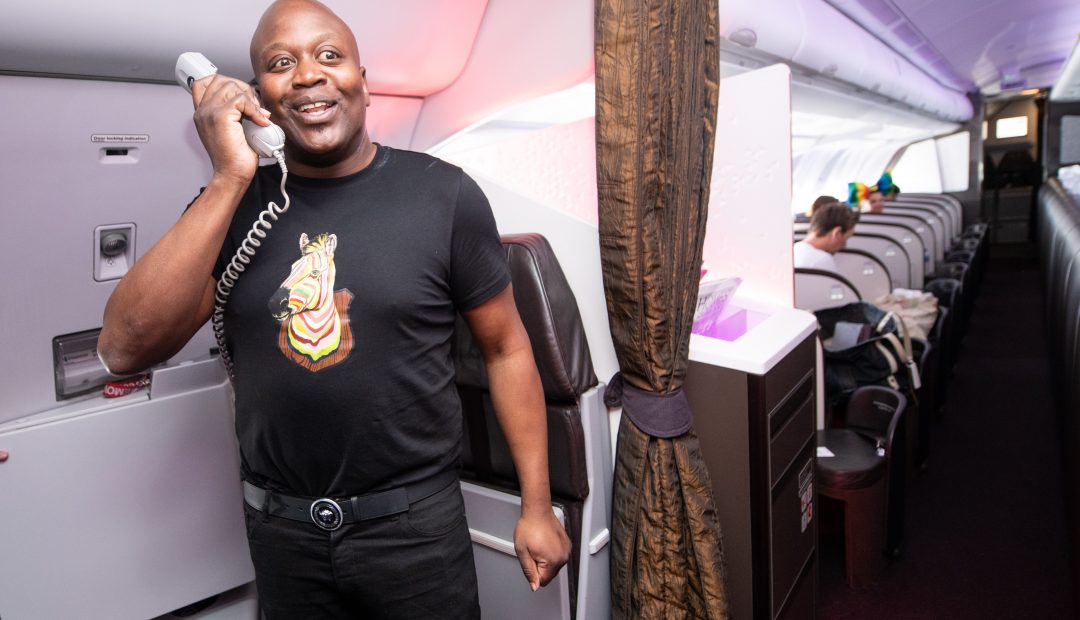 Tituss Burgess, star of Unbreakable Kimmy Schmidt and 30 Rock, embraced his Broadway roots and performed for the entire plane. When asked about his upcoming plans, he told passengers that he's getting ready to start work on his own Broadway production. If his upcoming performance is anything like his role in The Little Mermaid, I'm definitely excited for tickets to go on sale!
THERE WAS DRAG BINGO AND A RAFFLE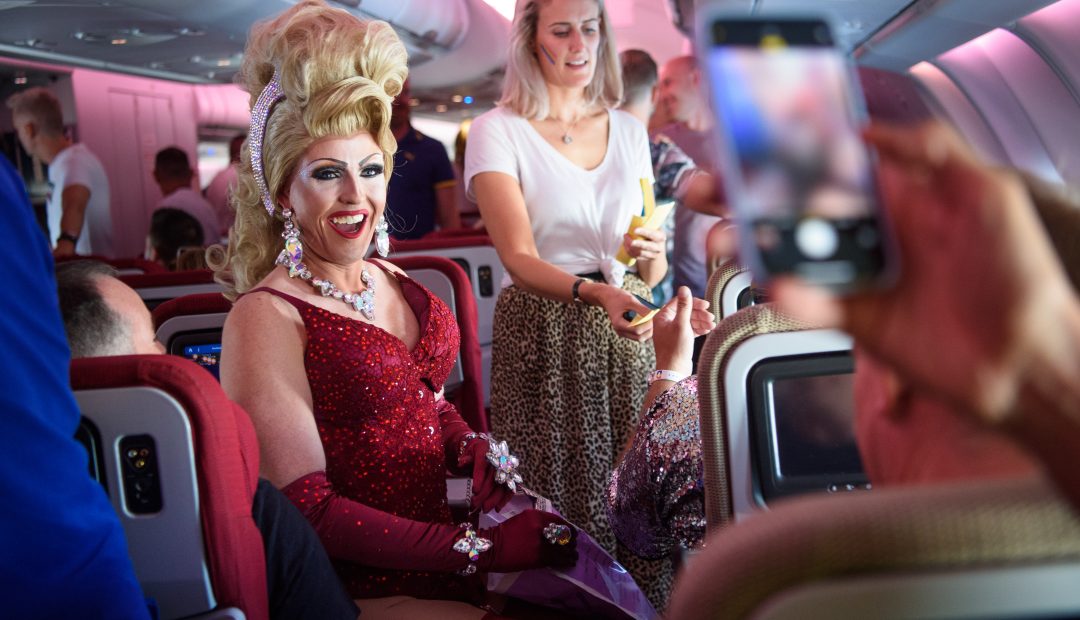 Part of the festivities included a game of bingo hosted by the fabulous troupe of on-flight drag queens, as well as a raffle for charity. The prizes for the raffle were no joke: prizes included Upper Class tickets on upcoming Virgin flights, and VIP entry to Virgin's exclusive Pride party that took place at the top of the World Trade Center. I bought four raffle tickets… but not because I really wanted those Upper Class seats, it was all about the charity, I promise!
COURTNEY ACT LOOKS STUNNING IN REAL LIFE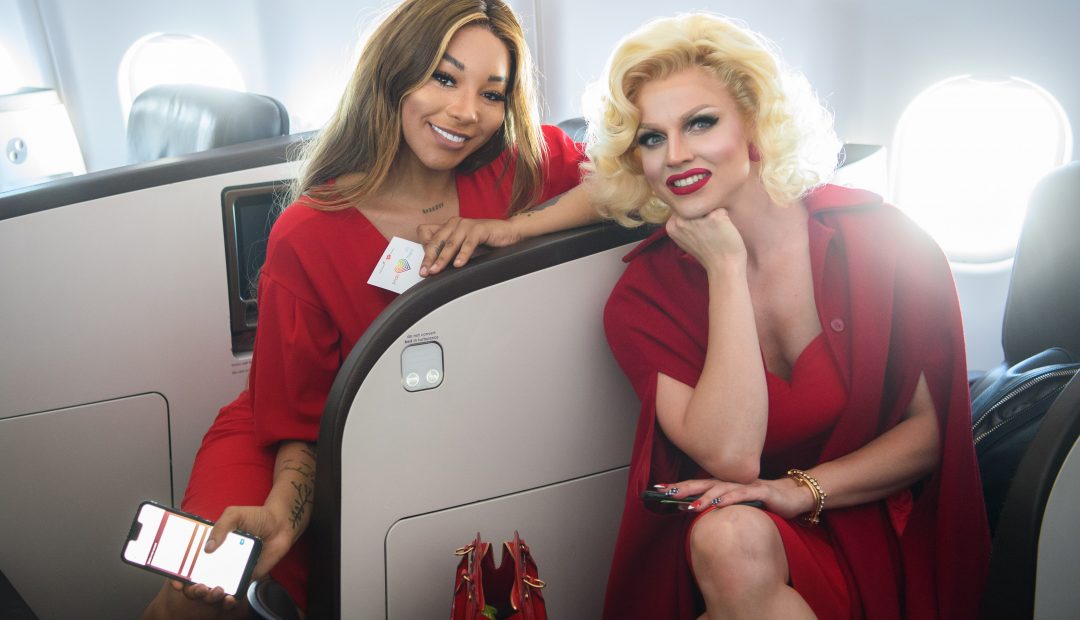 The always effervescent Courtney Act also graced the inaugural Pride Flight. I had fallen in love with Act when she competed in (and won!) Celebrity Big Brother. So to see her in real life was incredible, and what was even more incredible is that she really does look absolutely flawless. Like an actress from Hollywood's golden age, Courtney Act filled with airplane with an undenied sense of poise and glamor.
THERE WAS SOME IN-FLIGHT ROMANCE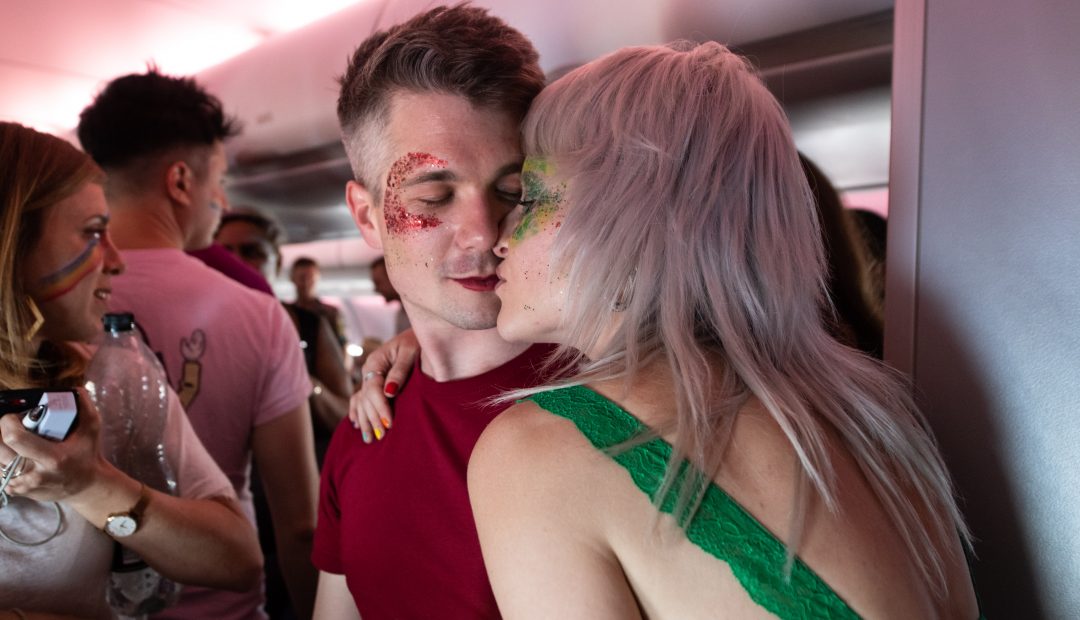 Now look… when you have an eight-hour flight and every single passenger has access to an unlimited supply of alcohol, there's going to be some PDA. But what was really adorable was the fact that a few passengers may have actually found something a little more special. The flight was so diverse and filled with so many people from so many different walks of life, that you just never knew who you'd bump into. And for a few lucky passengers, it seems like they may have stumbled upon love, 35,000 feet in the air.
THE DRAG QUEENS KEPT THE PARTY GOING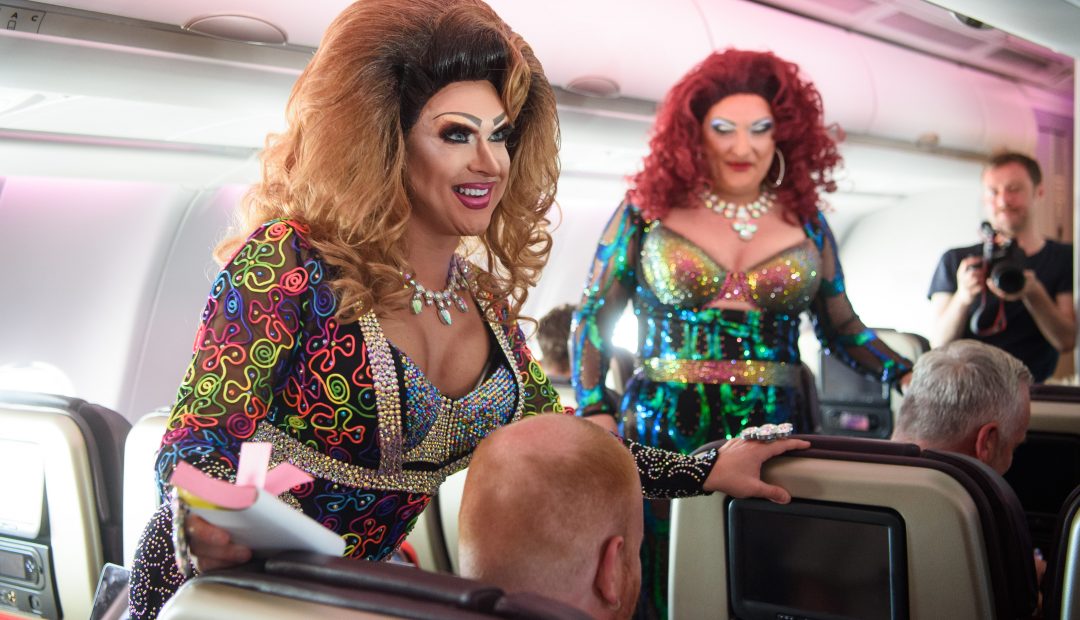 One of my favorite parts about the flight was that our in-flight drag queens were incredible! They were so much fun, so nice, and so personable. Their humor and larger-than-life attitude had a way of keeping everyone in the party spirit. Also, let's give them some props, shall we? They spent an entire eight-hours walking around a moving airplane in 6-inch heels!
WE HAD OUR VERY OWN DJ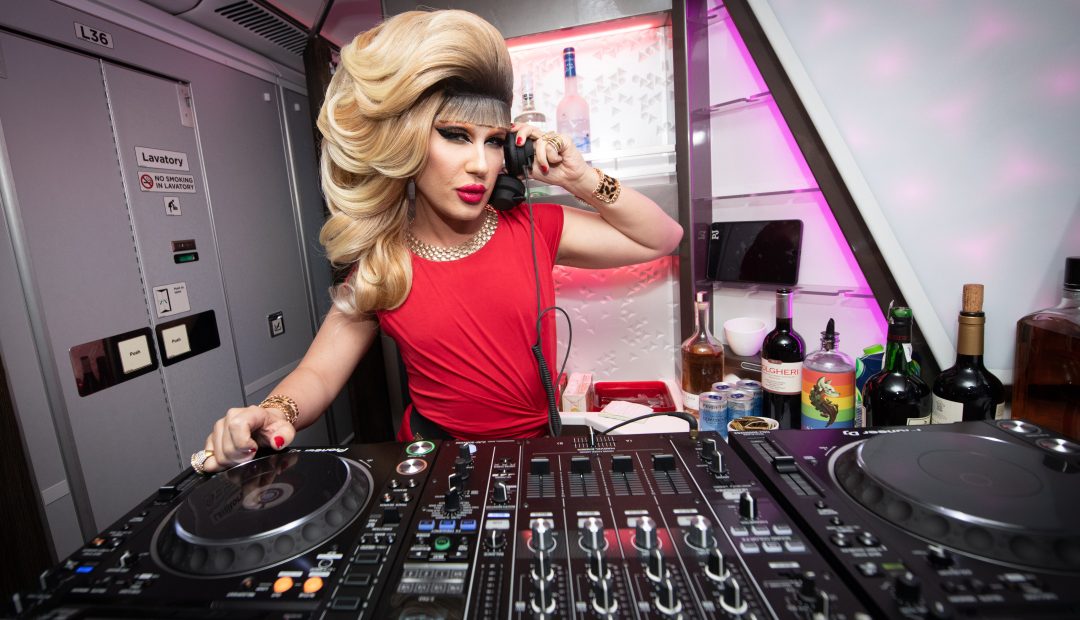 The famous Virgin on-plane bar was transformed into a dance club for this flight, with Jodie Harsh serving out remixed versions of Madonna, Britney, Cher, Ariana, and more! The bar became the epicenter of the plane, the (literally) beating heart of the pride flight. Passengers and celebrities alike, all mingled and danced around the dj booth!
ALL THE CLASSES MIXED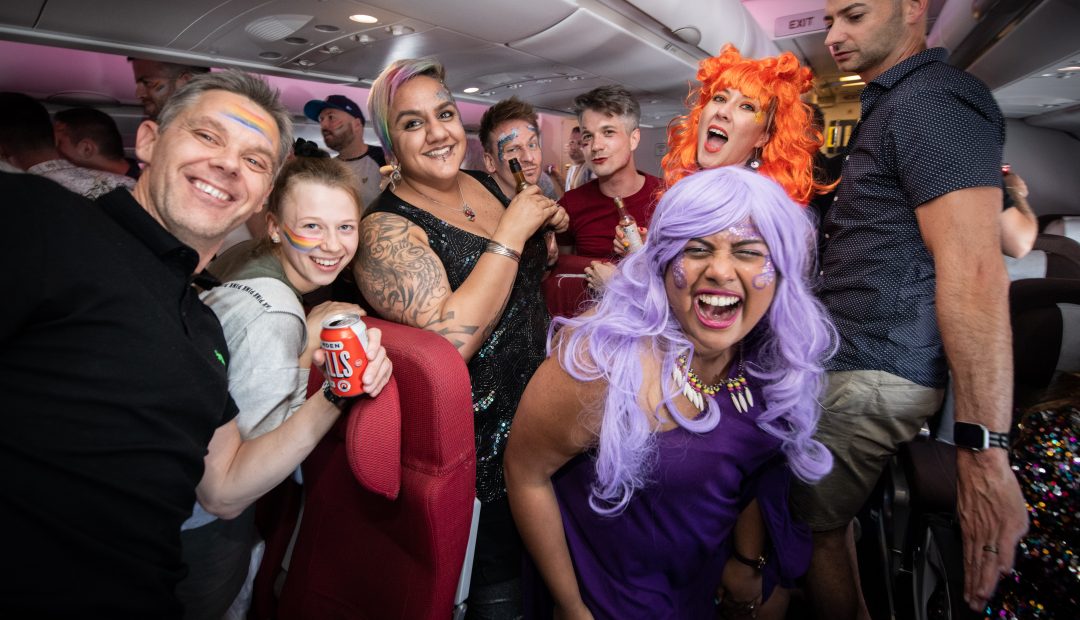 My absolute favorite part of the Pride Flight was that shortly after takeoff, everyone got up and started mingling. There was no border between Economy, Premium, and Upper Class. You were free to go wherever you wanted. And what made it even cooler was that there wasn't a single stuffy person in Upper Class who complained. The spirit of Pride had completely overtaken every single passenger on the flight, and it felt like one of those special moments in life that stays with you forever.