Savvy travelers love the hilarious and irreverent comedian, Pam Ann. She's known for her hot takes on airlines, the lives of cabin crew, and all the biggest news in the travel industry. However, like everyone else, she's been out of the skies since the pandemic began. On January 28th, Pam Ann returns for her first new live show, PAMDEMIC! premiering at Hunters Nightclub Wilton Manors in Fort Lauderdale. I was lucky enough to chat with the seasoned comedian to ask about life during the pandemic, and to learn what she has planned for her triumphant return.
Before we get to your new show, I want to know what life during the pandemic has been like. I've seen on Twitter that you had been doing online shows. How was that?
Yeah, I started doing shows on StageIt.com, and you know what, that was one of the best things that could have happened to me. My last show before everything started shutting down was on the 11th of March. When I was at LAX heading home, I met these two lovely gay boys, and we just started chatting about the horrifying things Trump was saying, and the growing number of COVID cases…and I said, "Oh God, what will I do for my shows?" Then they told me about StageIt.com and how I could do it there.
At first, it was a little weird. I didn't really know how to do a show without an audience, but I think it went pretty well. Plus, I think I needed those shows. It gave me a way to continue to perform and offered a challenge for my creativity, which helped me get through such a difficult year.
As a comedian whose world revolves around travel, this pandemic must have been extra difficult, because travel is your life. 
Well not just that, but tons of my fans actually work in the industry. There are so many flight attendants and airline staff who come to my shows, and who have become dear friends of mine. So it was incredibly hard watching everyone suffer. But I think it's also really energized me to come back strong and get on stage to tackle the virus with humor.
And this will be your first time on stage since March of 2020, right?
Yes! It's going to be like 10 months since I've performed in front of people! This is either going to be amazing, or it's going to be…scary! (laughs)
Are you worried about having stage fright after being off stage for so long?
Oh, I always have stage fright before a show. Anytime I'm about to perform, I'm overwhelmed with anxiety. But, hey, that's also part of the fun of it, right? You get that adrenaline rush, and it's kind of like the drug of performing.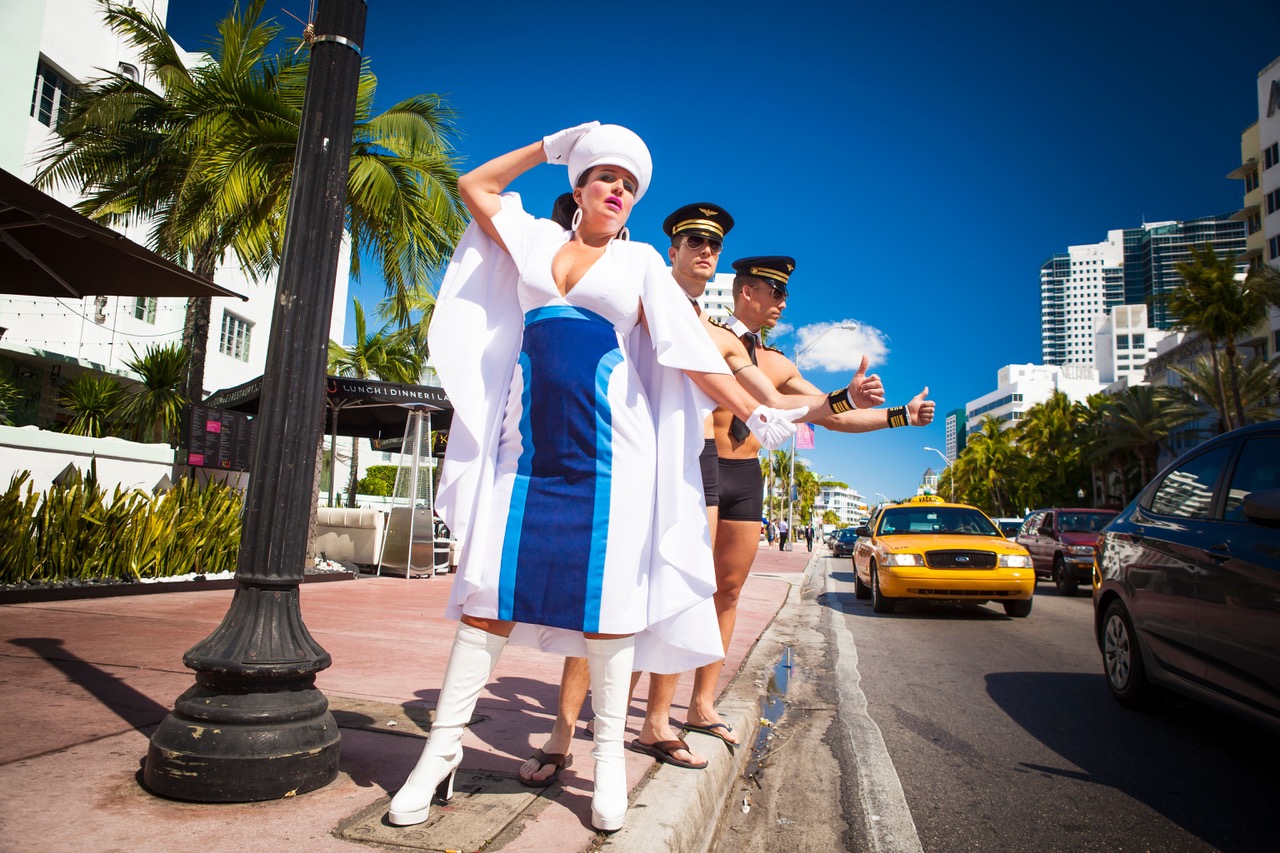 Can you tell us what we can expect from the show? What will you talk about after not being on stage for 10 months?
Well, I've been writing things down and building up some content. But I'm also gonna make fun of what's going on right now. How could I not address the new COVID strains around the world, or the Capitol riots with that guy wearing the horns?…And you know all the East Village gays think he's totally hot, right? They're all like, "I don't care that he's a terrorist, he's so my type!" (laughs)
Also, do you know I can't even go home right now? I'm from Australia, and first of all, there are not even flights to Australia right now. And even if I was able to go home, I'd have to quarantine for 14 days at a random hotel. The quarantine there is heavily enforced, so I'd have to just be trapped in a room for two weeks at a hotel of the police's choice…which I'm convinced will be a Holiday Inn. So yeah, I think there's tons of wild things going on right now to do a show about.
I'm guessing there are safety measures in place at the venue? 
Oh, absolutely. Hunters can normally hold something like 400 people, but right now each show is capped at 56 people, so that gives you an idea of how spaced out everyone will be. You can get your own table and watch the show without having to worry about COVID. Plus, Hunters has been putting on the Airotic show since November, so they've already got a good gauge of how to open safely.
What do you hope your audience takes away from your new show PAMDEMIC!?
Well, I hope they don't take away COVID (laughs) but, in all honesty, I just want people to laugh. I hope they walk away feeling like they've had a great, fun time. It's been a rough year, and I think we all need to laugh. I just really want to bring some fun and excitement to everyone's lives.
---
PAMDEMIC! premieres at Hunters Nightclub Wilton Manors on January 28th. You can also catch the show on February 4th, 11th, and 18th, with the possibility of more shows being added. Boarding at 7 pm – Takeoff at 7:30 pm
For tickets, click here. For more info on Pam Ann, visit her website.