The 2023 Grammy award winners included a number of notable LGBTQ+ artists. From Sam Smith and Kim Petras to Steve Lacy, Brandi Carlile, and Wet Leg, the Grammys celebrated diversity and highlighted the contributions of the LGBTQ+ community to music and pop culture.
Sam Smith and Kim Petras won the award for Best Pop Duo/Group Performance, with Petras becoming the first transgender winner. LGBTQ+ artists and allies also won in a variety of categories. Many tracks from Beyonce's latest album, Renaissance, (and the album itself) won several awards, including Best Electronica/Dance Album and Best Traditional R&B Performance for "Plastic Off the Sofa." British indie rock band Wet Leg won Best Alternative Music Album for their self-titled debut. Rock singer and songwriter Brandi Carlile received 10 nominations as a solo act and collaborator on other albums, winning Best Rock Song for her single, "Horses." Steve Lacy won for Best Progressive R&B Album.
GLAAD (Gay & Lesbian Alliance Against Defamation) released a statement on their Instagram, congratulating the nominees and winners.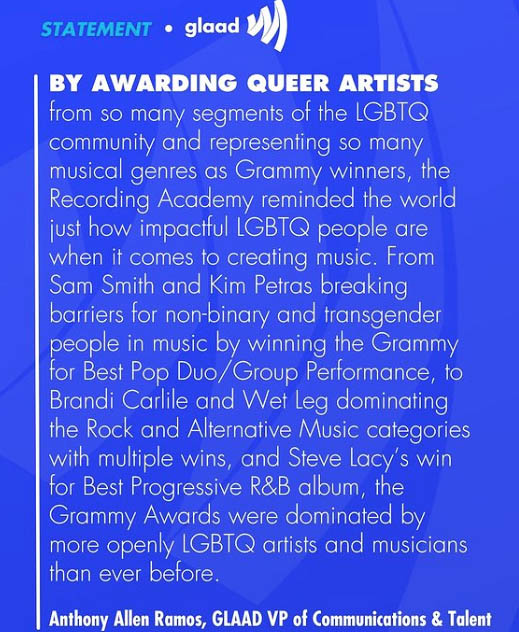 For the complete list of the 2023 Grammy nominations and winner, click here.
Featured Image (Screenshot via YouTube): Sam Smith and Kim Petras accepting the Grammy for Best Pop Duo/Group Performance.