Since the U.S. Supreme Court ruled in 2015 that same sex couples have a constitutional right to marry, support for same-sex marriage has increased substantially. Currently, more than six in ten (61%) Americans say gay and lesbian couples should be able to marry legally, while only about half as many (30%) are opposed.
Strength of support for same-sex marriage has increased dramatically over the past decade, while strength of opposition has fallen in nearly equal measure. Today, Americans who strongly favor same-sex marriage outnumber those who strongly oppose it by more than a two-to-one margin (30% vs. 14%). In 2007, only 13% of the public strongly favored same-sex marriage, while nearly one-quarter (24%) strongly opposed it.1 Much of this shift has occurred within the last five years. As recently as 2013, more than four in ten (42%) Americans opposed same-sex marriage, including about one in four (23%) who strongly opposed it.2 Over the last five years, strong supporters of same-sex marriage increased only modestly, from 25% to 30%.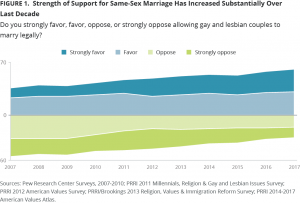 The rise in support for same-sex marriage, particularly over the last few years, has led to a milestone: Today a majority of all racial and ethnic groups favor allowing gay and lesbian couples to marry legally. Between 2013 and 2017, we have seen a double-digit increase in support for same-sex marriage among white (53% vs. 63%), black (41% vs. 52%), and Hispanic (51% vs. 61%) Americans.3 Currently, about four in ten (39%) black Americans, three in ten (30%) white Americans, and only about one-quarter (26%) of Hispanic Americans oppose same-sex marriage. Majorities of smaller racial and ethnic groups also support same-sex marriage today, including Asian-Pacific Islander Americans (72 percent), Native Americans (56 percent), and those identifying as multiracial or with another racial and ethnic group (66 percent).