With its shimmering skyline, visionary theaters, and wall-to-wall art, Chicago has become the Midwest's gift to the 21st century. Architects, designers, and artists have made their mark on the city's restaurants, galleries, and even its commercial districts.
THE WILLIS TOWER 
Formerly the Sears Tower, the view from the Willis Tower Skydeck will now dazzle and challenge you; the panorama attracts 25,000 visitors a day. Here are glass-floored, glass-walled boxes that jut out safely from the building's steel walls. Called observation boxes, they dare you to step out 103 stories above solid ground and take a photo, get a better look, or perhaps propose marriage. Afraid of heights? Gaze from inside. Afraid of elevators? The Skydeck is 2,102 steps up.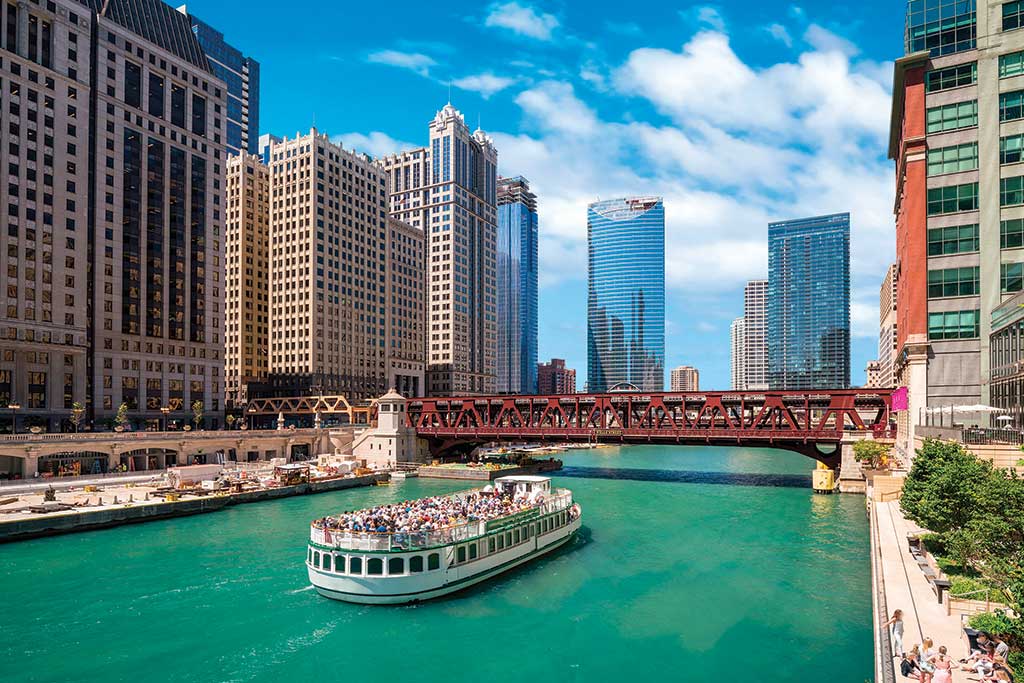 From an opposite perspective, the First Lady Chicago River Cruise asks you to look up. Ninety minutes on the riverboat features a lecturer with a mic who knows absolutely everything. He explains the differences between modern, art deco, and beaux arts architecture, giving a historical perspective and the backstory of Chicago's most iconic buildings. Glass-and-steel surface façades left and right reflect the sun, reach for the clouds, and are reminiscent of sci-fi movies.
THE YARD 
The newest theater, opened in fall of 2017 at the Navy Pier, is the exciting the Yard, named for William Shakespeare's Yard in London, the pit where rich and poor alike had access to great performances. This premier namesake faces Lake Michigan and the skyline beyond, and includes innovative high-tech architecture that helps build a "dynamic interaction" between the audience and the performers. An electronic wall of glass welcomes theatergoers, monitors sun and shade, bathing the outer corridors in varying degrees of light. Inside is a 180-seat black box theater and the stunning new Yard auditorium. This venue has a unique system that allows huge sections of seating to be added or removed, and 510 audience members (or less) to be seated in various configurations. Grandeur does not begin to describe this tiered space that performs not only plays by the Bard but also current imports, original plays, musicals, you name it.
Find out more about the art and architecture of Chicago, over at Passport magazine…