While we've seen (and drank) about a million versions of a mojito or martini, a Manhattan or a Singapore Sling, some of our favorites are those that really push the envelope, both visually and in terms of taste. If you like to try unique drinks, you'll love these wild cocktails!
BRIGHT IDEA
2100 BAR AND LOUNGE ATLANTIC CITY, NEW JERSEY
It takes some daring and original thought to serve a cocktail in a lightbulb, but that's exactly what the aptly named Bright Idea is. It begins with Bombay Sapphire gin, then aperitif wine Lillet Blanc along with Blue Curacao, lemon juice, and (what else could give such a uniquely sweet taste?) toasted marshmallow syrup. The whole concoction is then poured into a lightbulb (yes, you heard me right), which sits jauntily upside down on the table, and club soda is poured in to bring the whole thing to a shade of pale blue/green that's only appropriate for this resort town near the ocean. A neon-pink, flamingo-shaped straw rises cheerfully from the neck of the lightbulb, completing the singularly enlightening experience. 2100 Pacific Avenue, Atlantic City NJ. Tel: 609-346- 9663. www.caesars.com/caesars-ac
HAIL MARY
THE RELLIK TAVERN BENICIA, CALIFORNIA
The Hail Mary is served at brunch, or should I say is the brunch, since this everything-but-the-kitchen-sink cocktail contains pretty much every food group on earth. It starts with the most essential food group a bloody mary, and adds a series of skewers containing just about everything you need for a filling meal or a morning-after recovery. There's the usual celery stalk, olive, and lemon wedge, but then you'll discover much more: a fried chicken slider, some bacon, a fried pickle, and their own creation, a Raven's Claw, which consists of a jalapeño stuffed with bacon and chile cream cheese, topped with a jumbo shrimp, and encased in a wonton wrapper. You can get the fried chicken sliders or Raven's Claw from the regular menu, but aren't they that much better when they're garnishing a bloody mary? Sit on one of the couches at a low table, gaze up at the beautiful tin ceilings, and dig into your Hail Mary, which is truly a meal in a glass. 726 1st St., Benicia California. Tel: 707- 746-1137. www.therelliktavern.com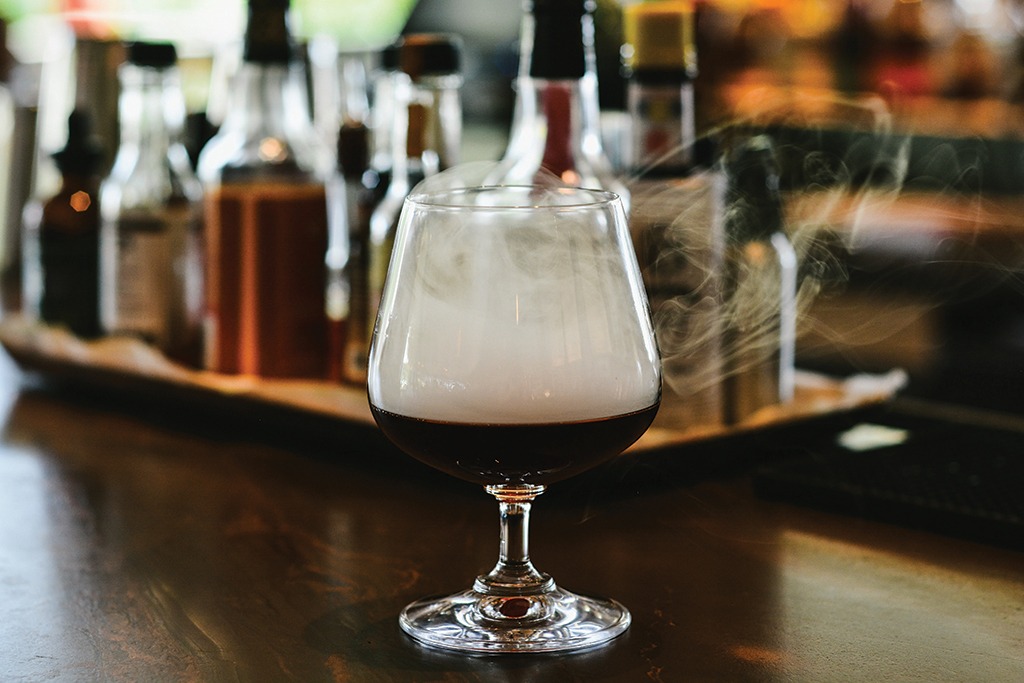 MERCURY MIRAGE
WEFT & WARP ART BAR + KITCHEN SCOTTSDALE, ARIZONA
Scottsdale bars might be non-smoking, but that applies to the customers, not the drinks, as the Mercury Mirage is brought to the table with smoke rising from it. It's not just for looks either, as the smokiness permeates the drink, which is made from Rittenhouse rye infused with smoked tea, house-made demerara syrup, and bitters that are piquant with the tasted of smoked chiles. It's a rich smoky-tasting delight, but that's not the most fun part. A smoke gun filled with applewood chips makes sure the visuals match the taste, and your glass is filled with smoke before the drink is poured into it, so it arrives with the aromatic vapor rising off and spreading across the air. It's not all theatrics, though, as you still have a uniquely delicious cocktail to savor once the smoke begins to dissipate. 6114 N. Scottsdale Rd., Scottsdale AZ. Tel: 480-368-1234. www.andazscottsdale.com/dining
For more Cocktails Gone Wild keep reading over at Passport.