LUSH has been famous for decades, known best for their handmade, cruelty-free soaps, shampoos, and of course, bath bombs. But the company is also known for its active social justice campaigns, often fighting to raise funds for animal rights, environmental protection, underprivileged communities, and now, LGBTQ rights.
The company has just unveiled their Gay is OK soap. This tropical bar is made with cocoa butter, coconut oil, and grapefruit oil, creating a lusciously fruity and moisturizing soap. Best of all, it's dusted with LUSH's famous biodegradable glitter, coating the bar with a shimmery, shining gold sheen.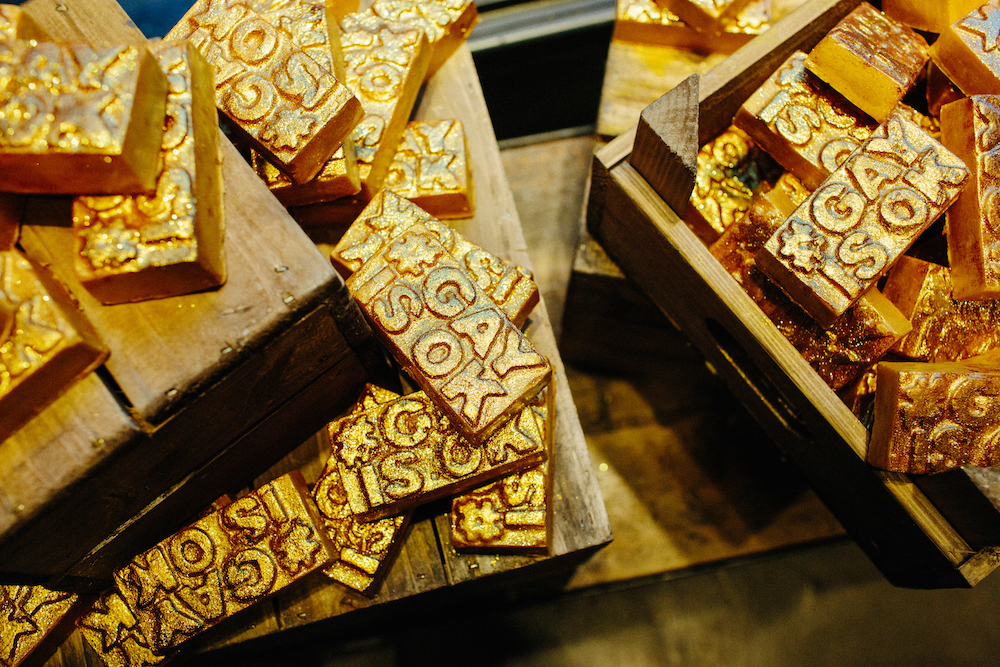 Better yet, 100% of the purchase price of the soap (minus tax) will be donated to Equality Florida, a nonprofit that seeks to further civil rights for the LGBTQ community in Florida. This is especially critical as Florida's bigoted Republican politicians have passed the 'Don't Say Gay' law, which will surely have an impact on LGBTQ youth's safety, comfort, and ability to be themselves.
Nadine Smith, Executive Director, Equality Florida, said in a release, "LGBTQ young people and their families are facing a political onslaught aimed at stigmatizing and erasing them. This toxic climate will make schools less safe for the youth that need our support most. It is vital that the businesses that uplift values of diversity and inclusion speak up at a time when their employees, customers and the broader community are under attack. It is the right business decision to walk the talk of company values. It is playing politics to remain silent. We are grateful for Lush's willingness to do this important work and hope that their unequivocal support for LGBTQ lives encourages others to step up. Each of us is called to the fight to ensure every student is protected and every family is respected."
LUSH also released a statement, with Carleen Pickard, the company's Ethical Campaigner, saying, "At Lush, we believe the state has a responsibility to provide a safe and inclusive learning environment for all children and the Don't Say Gay legislation does just the opposite. At a time when youth need our support the most, they and those that love them are being targeted. We are proud to stand with Equality Florida's work to support the queer community at this critical and uncertain time."
---
LUSH's Gay is Ok soap can be purchased at LUSH stores throughout Florida and online nationally. To buy your bar, click here.