Currently on view at the Pratt Manhattan Gallery is the exhibition, "The Work of Love, the Queer of Labor," a multimedia exploration of the interaction between queer and left activism. The works, curated by Olga Kopenkina, examine queerness in the context of class and the politicization of LGBTQ+ culture. Particularly, the exhibition analyzes the conflation of love and labor in the pursuit of liberation. Historically, queer liberation movements were connected with the pursuit of a "a self-regulating worker's society." The artists included in the show hail from all over the world, including South Africa, Russia, Estonia, USA, the Netherlands, Sweden, and Canada. A full list of the exhibiting artists can be found here.
When considering the cultural perception of queerness, one must also understand that much of it is shaped by middle to upper class LGBTQ+ individuals. Thus, an argument can be made that class struggle, including socialist ideology, can be connected to a queer working class identity. This can be seen in Hugo Gellert's (1892–1985) lithograph, which, perhaps unintentionally, demonstrated a link between homoeroticism and class struggle. Specifically, that political agency comes from the bond between working class men, though the nature of that bond is not specified. Yevgeniy Fiks's series of wooden panels, titled Towards a Portfolio of Wood-cuts (Harry Hay, 2013) depicts the legacy of Harry Hay, a Communist activist and co-founder of the first gay rights group in the United States, the Mattachine Society. The panels feature quotations by Hay, espousing the same concept that homosexual identity and Communist revolution of workers are connected. On a similar note, the Mattachine Society and the Daughters of Bilitis focused on correlating queer protesters with a "proper," working class image.
In this instance, protesters wearing "gender appropriate" clothes were featured, thought to be more acceptable to bystanders or a more "normal middle class." In defiance of this, Gay Liberation Front (GLF) created a poster with a photo depicting a more "unkempt," realistic queer crowd protesting for their rights. Another organization, Dyke Action Machine!, protested similarly, creating public art on the streets of New York City that mocked this neat, conservative depiction of queer people. They also notably adorned their work with WWII-style patriotic slogans and commercial advertisements, meant to provoke workers.
There are also works in the performance format, such as We Will Open a New Front –Lecture by Lee H. Jones (2019), staged by Swedish team Åsa Elzén and Malin Arnell of YES! Association/ Föreningen JA!. The performance consists of a speech read each time by a different actor going by Lee H. Jones. The speech, drawing upon the writings of various queer and feminist activists, imagines a new, queer class of marginalized individuals who embrace differences in identities, lifestyles, citizenship, and work. The work stands particularly against a recent corporate image of the LGBTQ+ community as a "classless" and white conglomerate. The speech thus empowers listeners to destroy the old hierarchies of concepts of gender, race, and labor. Another work by YES!, New Spelling of a Street –A Tribute to Audre Lorde (2017) expands on this idea as well. Particularly, it examines a moment in Post-WWII United States history where queer and working class women identities were connected.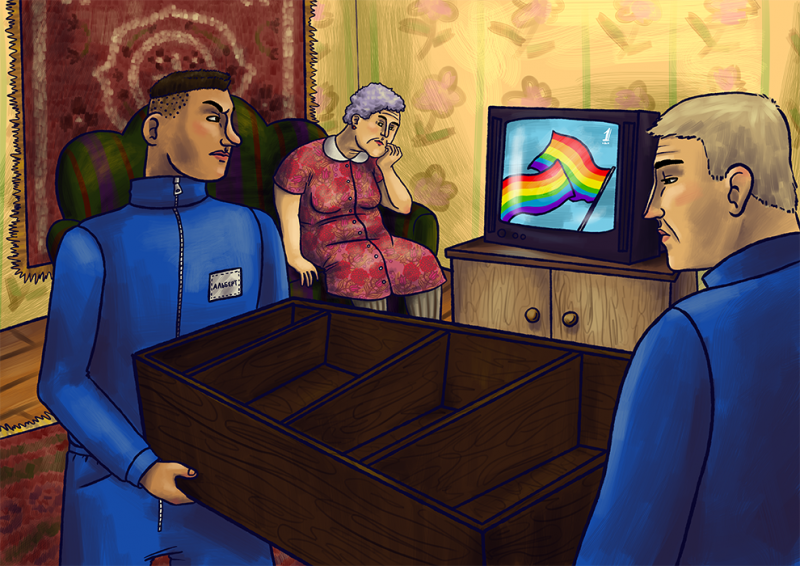 A particularly striking series of graphic illustrations by Russian artist Harga depict the narrative of three delivery men in Russia, observing "decadent" pride parades in Europe. One remarks, "I've been wearing the same pair of the darned pants for a month now, and they want me to think that someone's gay marriage is more important?". Ironically, in the images following in which they drink and have a sex party, it becomes clear that the men are gay as well. The piece thus captures the complexity of queer identity as a Russian, in which gay men might even deny the rights of others in the community. Estonian artist Jaanus Samma examines similar themes in his multimedia work, Not Suitable for Work: A Chairman's Tale (2015), which details the life of gay Communist party member accused of sodomy and sent to a labor camp.  Once returned, he started an underground homosexual community in a city. The work has many graphic visuals as well as chilling records of past Soviet abuse of queer people.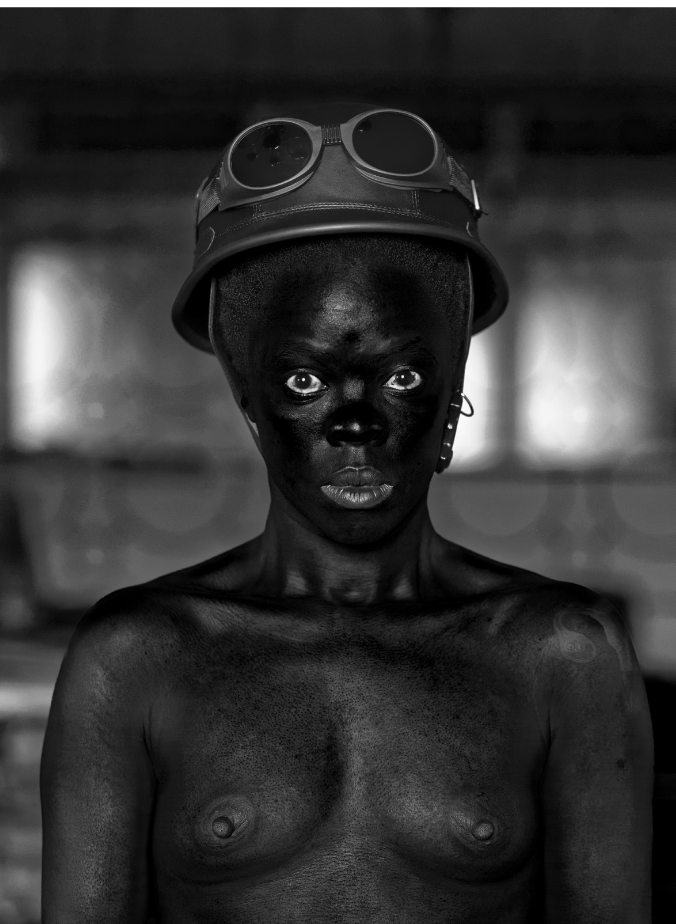 South African artist Zanele Muholi also makes use of the medium of photography to depict the queer industrial and domestic worker through a series of black and white self portraits. With one photo referencing the 2012 Marikana massacre of miners by security workers, the collection blends the workers' struggle with elements of the black and queer community.
Access is available to members of the Pratt community as well as vaccinated visitors, with ID being required for adults. The exhibition is on view through August 20, 2022. For a more extensive look at the full exhibition, click here