Back in 2016, the then 27-year-old architect, Alfie Arcuri, had a life-changing experience: He was selected to audition for Australia's version of the popular reality series The Voice. Before he knew it, he was crowned the winner, had a record label, a hit album, and a future as a musician.
Recently, I was lucky enough to sit down with this handsome and charming Aussie and ask him some questions about his life. With his cat (whom he adopted from Delta Goodrem) perched in his lap, and his dog asleep on the couch beside him, Alfie opened up about his life, his career, and his future.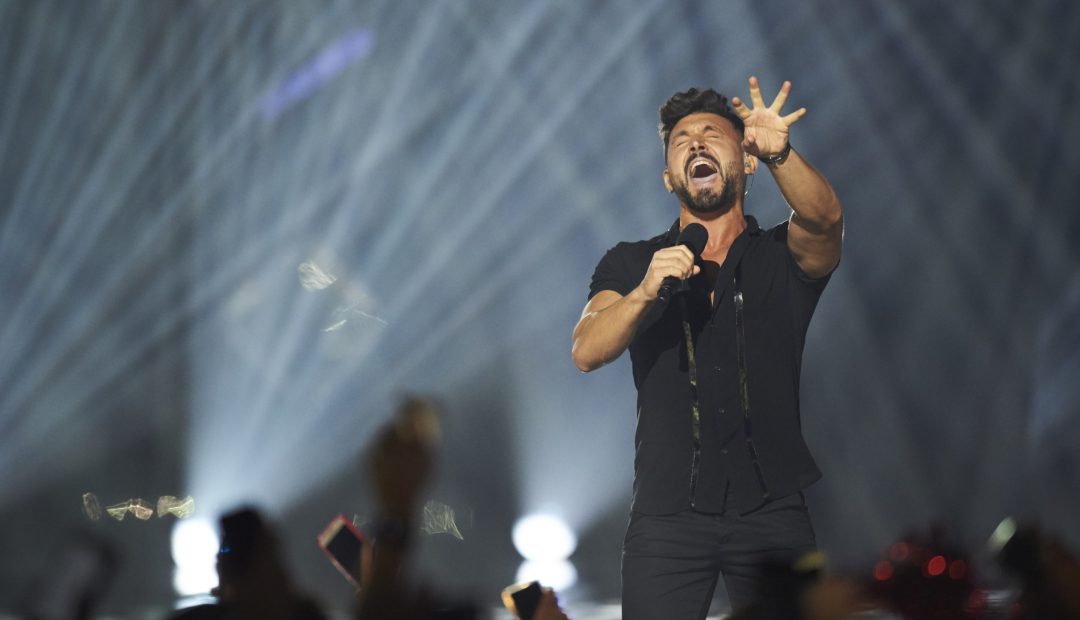 Keith: What made you want to audition for the The Voice? 
Alfie: Music has always had a special place within me. Back when I was younger and in the closet, I used to love the song 'Red' by Daniel Marriweather. It was like, this guy knew what I was going through! It changed everything.
Then, my sister's wedding was the first time I ever sung in front of anyone. I had been recording myself singing on a private Youtube channel, but was terrified for anyone to hear it. Her wedding was the first time anyone heard me sing. She had gotten sick just after I had found my voice…she was diagnosed with cancer two weeks before her wedding. I offered to sing, and like I said, nobody had ever heard me sing before, but I wanted to do something for her to let her know I was there for her. And when I sang it made me feel so good. I loved knowing that I made her happy. I loved the adrenaline. I loved the nerves. I got my first taste of what music could do for me. Shortly after, I sent in my audition tape to The Voice, and then they invited me to audition in front of the judges.
---
Keith: In your audition, every single judge turned their chair. You ended up choosing Delta Goodrem to be your coach, what made you choose Delta? 
Alfie: Delta got sick with cancer, just like my sister did. And when my sister was sick my mum had a photo of Delta on the fridge the whole time during her treatment as motivation for my sister to make it through. I'll admit though, if Ricky Martin would have still been a judge on the show (He was a judge on the previous season), he may have given Delta some competition. But yeah, Delta was a no-brainer for me. I love her as an artist, her singing style, and her connection to my sister. She was definitely my top choice.
---
Keith: You have a new single out titled 'Same'. Can you tell me what the inspiration for the song was?
Alfie: The song is about something I've been through, and that I suspect a lot of others have too. It's about getting your heart broken by your first love, and then trying to replace that same person with someone else. I kind of did that with my second partner. I was constantly comparing him to my first, trying to tick all the boxes the first one did, hoping that the relationship could evolve into what my first one was.
But in the end I realized that you can't do that. You can't just replace your first love. It isn't fair to yourself, or to your partner. So that's what my new song is about. It's about losing your first love, and trying to replace that moment in your life.
---
Keith: Is this single leading up to a new album? What's coming up for you in your career? 
Alfie: Oh of course! I've been writing for 3 years and I have a bunch of stuff. There's either going to be an album or EP in the works. We're hoping for a Christmas release. All the songs are ready, I just need to figure out how best to present them. I've been working on this new collection of songs for a long time, and I think they're going to be incredible, so I'm very excited for what's to come!
---
Keith: Ok, the last question is a fun one, and also a three-parter. I want to know your favorite movie, favorite food, and if you could be any animal, which would you be? 
Alfie: Oh man…for movies, I have three, is that ok? Ok, the first one that came to my head was Mean Girls, I obviously love that one. The Lion King, and I'm totally going to see the new one this summer, and lastly…oh hang on, was there a third? …Hmmm, maybe I only have two. Oh wait, I remember! I love The Devil Wears Prada! It's good you didn't ask me my favorite TV show, that would have been even harder.
My favorite cuisine is Middle Eastern food. I absolutely love it. However, I'm an Italian boy so my favorite meal would have to be something like pasta. I'll say a spaghetti ragu.
If I could be any animal… you know, I think about this a lot. I used to want to be a lion. But, I think now I'd want to be an elephant. Elephants have no predators. But then again, there are poachers. So, can I be a massive elephant without tusks? That way nobody would poach me!
---
To stay up-to-date with Alfie Arcuri, be sure to follow him on Twitter